tech2blog
Skridskon tillhörde motståndaren Matt Petgrave i Sheffield Steelers, och olyckan uppstod när Petgrave tappade balansen i en tidigare duell. Händelsen ska nu granskas av polis.
– Våra utredare är kvar på platsen för att genomföra eftersökningar och vår utredning av omständigheterna runt händelsen fortsätter som tidigare, säger polisen i ett uttalande till brittiska The Telegraph.
Johnson har ett förflutet i både NHL och svenska Malmö Redhawks. Han blev 29 år.
Enligt The Telegraph har Matt Petgrave, vars skridsko skadade Johnson, fått hatmejl och hatkommentarer på sociala medier efter händelsen.
Hans lagkamrater beskriver honom som "fullständigt förkrossad" över olyckan.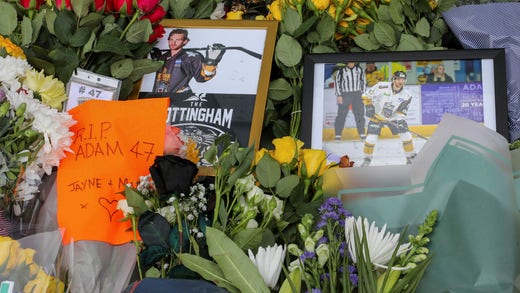 En minnesplats har upprättats i Nottingham som fyllts av blommor och meddelanden.
Kevin Moore, Nottinghams assisterande tränare, tackade under söndagskvällen alla fans för deras support.
"Vi är verkligen tacksamma för all kärlek och allt stöd", sade han.
#Adam #Johnsons #död #på #isen #Storbritannien #utreds #polis, | Latest International Breaking News