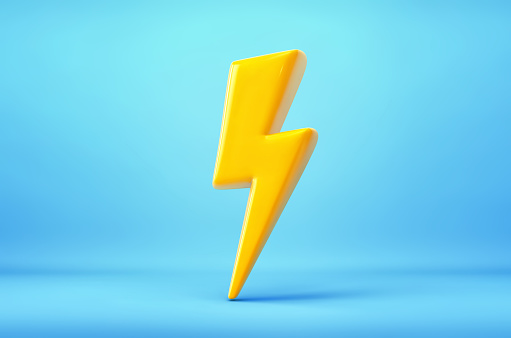 Thesis
Hawaiian Electric (NYSE:HE) has experienced a drastic decline in share price, which is attracting contrarian and value investors. We believe the stock carries too much risk and is not discounted enough to merit taking on that risk. Hawaiian Electric owns and operates a regional bank as well as being a utility, which adds additional concerns. There is too much uncertainty here to bother taking a position.
The Elephant in the Room
The elephant in the room is the potential liabilities Hawaiian Electric may face resulting from Maui Wildfire litigation. At this stage in the game, it seems too soon to quantify what these liabilities may be (if any). So rather than quantify them, we can only qualify them. What we know is that this wildfire happened, and that Hawaiian Electric is the primary operating utility for that area. We know that some residents and observers blame Hawaiian Electric for what happened, and some blame various government agencies. There is video footage, testimonies, and statements that could be used to blame either side for their alleged role in either starting the fire or the response to it.
What can be inferred is that both Hawaiian Electric and the government have a very strong incentive to minimize the role they had in the wildfires and blame the other side for the tragedy.
We have no interest in opining on "who is to blame for this". Litigation against Hawaiian Electric and the government will likely take years to play out, and it's currently impossible to assess what the end result will be. Knowing the situation at hand, we can reasonably make these three statements:
1. Whether or not Hawaiian Electric is ultimately found liable for some amount of wildfire related damage and loss of life, the litigation proceedings are likely to last years and expenses related to fighting the litigation will likely be a financial drain on the company.
2. Unresolved litigation with such high potential costs are likely to depress shares until the overhang is resolved.
3. Hawaiian Electric is essentially pitted against the various government entities at play here, because if Hawaiian Electric isn't able to be blamed then more responsibility falls on the government.
Ultimately, an investor must make a judgement whether or not they are okay with accepting these risks, and if the potential payoff justifies taking the risk. In our opinion, the nature of this litigation means that it will be a costly and drawn out affair, where even a "win" in the form of an eventual settlement or favorable verdict may end up being a loss for shareholders who are buying today when all is said and done.
Additional Complications
If matters weren't already complicated enough, Hawaiian Electric also owns American Savings Bank. This brings its own set of challenges and uncertainty. Like most regional banks, the assets on their balance sheet are likely not what they seem due to the rapid increase in interest rates that has taken place over the past year and a half.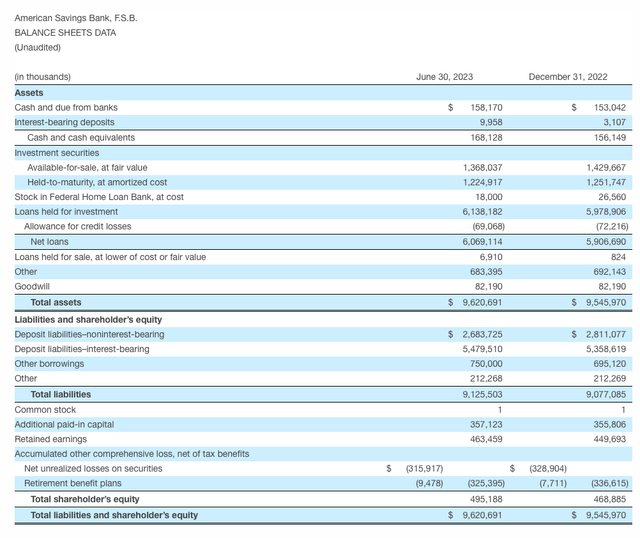 We can see that they have $1.2 billion in their investment securities HTM portfolio, as well as $6.1 billion in loans held for investment. It's likely that there is some amount of paper losses on the combined $7.3 billion, which could be more than enough to wipe out the $495 million in book equity.
Of course, American Savings Bank could have very minimal or zero paper losses in their portfolio through a focus on short-term debt instruments and if they engaged in primarily short-term lending activity. The point is that this is yet another risk factor that muddies the water, and given the stress that many regional banks have been experiencing, the implications are not promising for American Savings Bank. Investors should understand that Hawaiian Electric is not a typical utility investment and does not provide financial exposure to a pure play utility.
Valuation and Price Action
Hawaiian Electric's stock has sold off a lot, but still doesn't look that cheap on a PE basis given the risks at hand. Investors assessing this company probably also follow other utilities and regional banks, where there are companies trading at depressed valuations without the idiosyncratic risk factors present here. Similar bargains can be found in the energy sector that also lack as severe risk factors. The valuation of Hawaiian Electric just doesn't look that compelling to us even if a lot ends up going right, and investors do not appear to be adequately compensated for the risk.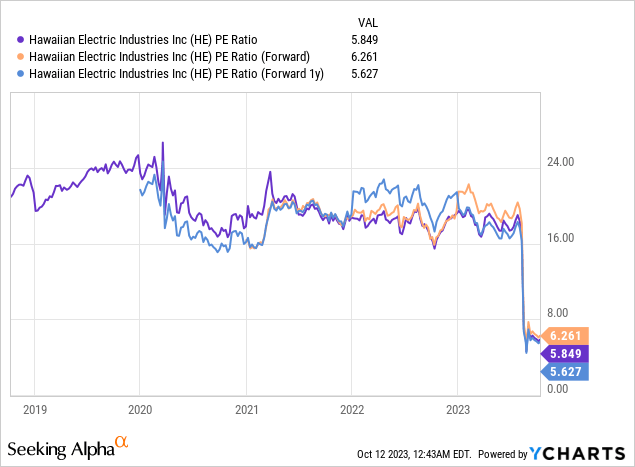 Hawaiian Electric is most likely trading below book value because the market is questioning their balance sheet, in our view. The market likely believes that their balance sheet has some missing liabilities on it, and that their true book value is much lower than what is stated on their balance sheet. This may or may not end up being the case, but the market is definitely discounting something. Given the situation, we wouldn't be comfortable investing based on a discount to book value.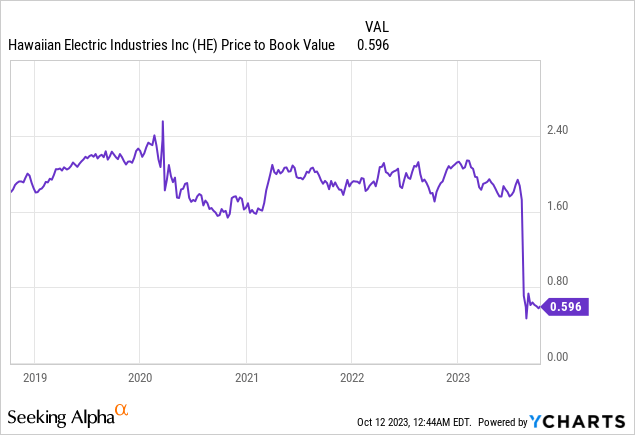 Shares have sold off heavily following the news and events surrounding the Maui Wildfires. The market tends to shoot first and ask questions later, especially so after a major tragedy. Contrarian and value investors may be tempted to take a position here and the company may indeed be undervalued at current prices. The water is muddy, which can be a sign of opportunity just as it can be a sign of danger. Our belief is that the potential reward is not great enough to merit the risks, and investors would be better off investing their capital elsewhere. We have nothing against the company. Long investors who disagree with us can certainly make a valid bullish case and we wish them the best of luck with their investment. Distressed asset investing is not the type of game we play, but there are plenty of others who can play it well.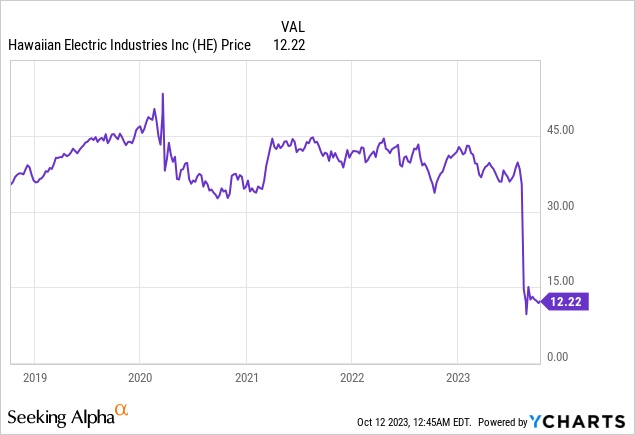 Risks
The main risks to being bullish here concern the potential wildfire liabilities and balance sheet risk regarding the regional bank subsidiary.
The main risks to being bearish here are the possibility of a quick and favorable litigation outcome as well as the possibility for interest rates to decrease.
We think the situation here is difficult to assess and ultimately not worth the risk. For this reason, we believe that staying on the sidelines is the most prudent course of action.
Key Takeaway
We view Hawaiian Electric as being a poor investment opportunity based on the multitude of difficult to quantify risks, as well as the valuation discount not being wide enough for our liking. There are plenty of better opportunities out there with much clearer fundamentals in both the utility and regional banking sectors (as well as energy), so taking a position in Hawaiian Electric at these prices seems unwise given the investment alternatives available in the same (or adjacent) industries. There are multiple upside catalysts that could play out so shorting this company appears equally unwise. For now, we believe that staying on the sidelines is the best course of action.
#Hawaiian #Electric #Worth #Risk #NYSEHE, | Latest International Breaking News